See below for detailed photos and a look at B.C's complete cosmetic process.
BC came to us concerned about the appearance of his teeth. So much so, we could not get him to smile for his initial photo. He said he had brown stains on his teeth and he wanted his teeth to be whiter. He said his teeth were sensitive to cold and sweets on the lower left side and his gums bled when he brushed his teeth.
The brown stains on BC's front teeth were in fact cavities. BC had cavities on almost all of his teeth. He also had severe gingivitis throughout his mouth. Many teeth had cavities that could only be corrected with crowns. The lines in the teeth are old white fillings and are stained and broken.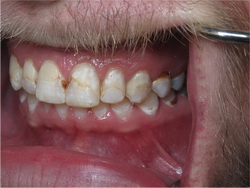 BC was concerned about the color of his teeth and wanted his final permanent crowns to be whiter than his natural teeth. We recommended Zoom in-office whitening treatment for BC across his lower front teeth before we did any of his other treatment. This would allow BC to achieve the desired color for his teeth quickly and allow us to match the shade of his lower teeth post whitening in order to give BC the whiter smile he desired.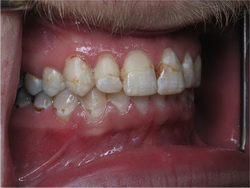 We also recommended a thorough cleaning and laser therapy in order to get his gingivitis under control. Between in office therapy and good use of electric toothbrush and water pik, the tissue responded and quickly healed.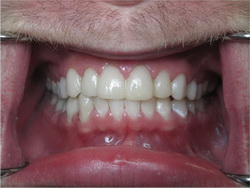 Here BC is in his temporary crowns, after his treatment was completed. He had his treatment completed under IV sedation so that he would not feel or remember his appointment procedures.